RavenWindow: Automatic Glare & Energy Control
Your investment in your home is one of the largest investments you'll make in your lifetime. Whether you're building a new home or renovating your existing one, choosing the right window can make all the difference – in comfort, protection, and energy savings.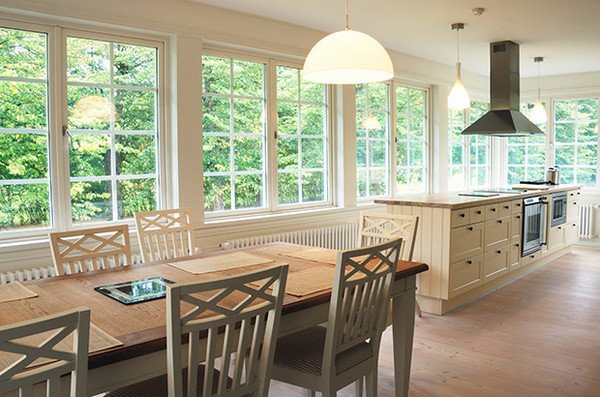 Bringing natural light into our environments is instinctual. Depending on the time of year, bright sunlight warms us and makes our homes welcoming. During the summer months, that light can be invasive and harsh, causing uncomfortable heat gain that we battle with increasing reliance on air conditioning. The energy bills for many homes peak during both summer and winter months.
RavenWindow gives you a great alternative. RavenWindow smart glass windows respond daily to changing climactic conditions. During summer's high temperatures, they darken to automatically reduce heat, glare, and unwanted solar heat gain. In winter, they let a maximum amount of light and warmth in. RavenWindow can also be customized during manufacturing to meet the needs of a climate zone. RavenWindows will increase your comfort level, while decreasing your energy bills.
Once RavenWindows are installed, you'll have a reliable, no-maintenance approach to managing your energy costs. Your home heating and air conditioning equipment will enjoy a longer life as the demands on it decrease. No special installation, equipment, or electrical connection is necessary. RavenWindows respond automatically to the outside temperature, blocking UV wavelengths, reducing sun damage, and reducing exposure to the sun's harmful rays.
RavenWindow: Comfort
Love your windows but hate the heat and glare? RavenWindows make it easy to enhance your space with the benefits of natural light while you block the direct solar heat. Mitigate glare and block heat while you increase natural light, so you'll get the best of the sun without the downside. Maximize your view with RavenWindows. You will not need heavy curtains to block sunlight in the Summer RavenWindows are designed to give you more freedom of choice while keeping your space comfortable in every season:
Windows make a room look larger, but once you close drapes or blinds to block the heat or lessen the glare, you've lost the effect – and the view. RavenWindow is inherently energy-efficient and glare reducing, so drapes and blinds are unnecessary.
RavenWindow's solar-intuitive transitioning selectively blocks the Sun's heat, so you don't have to block all the visible light.
Keep your open floor plan bright and make the most of it by allowing in natural light without all the heat.
John Keane_Testimonial from Raven Window on Vimeo.
RavenWindow: Green Living
Reducing your energy footprint is easy to do with RavenWindow. As the thermochromic filter responds intuitively to the sun, your home is protected from unwanted heat gain and glare while it takes advantage of passive ositive solar heat gain in the winter. With no wiring or additional programming and customizable for your regional climate zone, RavenWindows require no maintenance or additional tinkering to stay on energy-saving duty all year round. RavenWindow delivers:
Daylight management and glare mitigation.
Cost savings by eliminating the need for sunshades or other sun-blocking additions.
Energy use reduction and decreased use of HVAC components.
Wide choice in window types for the best energy efficiency tailored to your specific requirements.
RavenWindow: Luxury Living
Your luxury home is a lifetime investment – protect it with RavenWindow technology. The latest in smart, sustainable technology brings you a new way to manage sunlight naturally and maintain your beautiful views without compromise from closed blinds or drapes. You'll minimize damaging ultraviolet and heat while maximizing the luxury. Protect your interior finishes and furnishings from damaging UV rays.
Wood floors, color fabrics and carpet are all extremely photosensitive.
UV rays fade and dry out upholstery and leather, causing them to crack, rip and tear.
UV rays damage acrylic and oil paintings and weaken paper fibers.
Enjoy your vistas and unobstructed views without curtains, drapes, or sunshades.
No controls or additional settings needed. Functions autonomously.
No maintenance, worry-free for the life of the window.
Increased comfort during all four seasons.
Energy savings

.